WITH INTEGRATED MARKETING
Our goal is to enhance and maximize your ROI
with a coordinated, holistic media buying approach.
Media Buying That Is
Optimized
Integrated
KPI-Centric
Responsive
Targeted
With over 25 years of experience, our passionate team of seasoned DR marketers excel at fitting all the pieces together to deliver compelling and successful campaigns. We deliver results through our integrated marketing approach coupled with market research, an attribution model, and analytics.
Harnessing The Audio Renaissance
For over 25 years, MPW has been at the forefront of launching successful broadcast radio campaigns and a top buyer of remnant radio.
Creative intelligence, market research and advanced targeting abilities have propelled MPW into the Digital Audio world.
• National Syndicated
• Local market
• Sirius XM
• Podcasts
• Digital Audio
• Hispanic
• Influencer Audio
Partners In An Evolving Media
As TV viewing habits continue to evolve, more and more Brands and DR advertisers are embracing Connected TV as an augmentation to their Broadcast TV, or Linear TV buy.
With advanced technology and attribution lift models, MPW can connect TV ad spend back to responses with detailed reporting.
• National Cable
• Satellite TV
• Syndicated Programming
(including :10 ad units)
• Local Cable
• Local Broadcast
• Connected TV
Device Agnostic Digital Advertising
Amplify brand reach, drive direct sales, build social communities, and master search engine marketing with a seamless, proactive solution.
Our digital experts understand your audience, multi-channel campaigns, but most of all, they are experts at attribution and analytics. MPW optimizes campaigns per channel in order to drive the highest ROAS.
• Programmatic Video, Display, OOH and CTV
• Social Media Advertising
• Search Engine Marketing (SEM)
• Landing Page Creation
• Search Engine Optimization (SEO)
• Email Campaign Creation & Deployment
Tough Negotiators; Innovative Ideas
Our expert team of buyers offer print and out of home solutions to supplement and enhance your media plan.
Whether it be a remnant print or magazine buy, to a programmatic digital billboard campaign in a local market, we have the media partners to deliver one-stop buying. When integrated with digital tactics, MPW can further maximize your ROI!
• Remnant Magazines & Newspapers
• Billboards (Digital & Static)
• Transit
• Truck stop signage
• Gas-pump Advertising
• In-Theatre
• Experiential Marketing
Expertise Fueled With Knowledge To Maximize Success
Maximizing ROI requires a team with expertise across all communication platforms.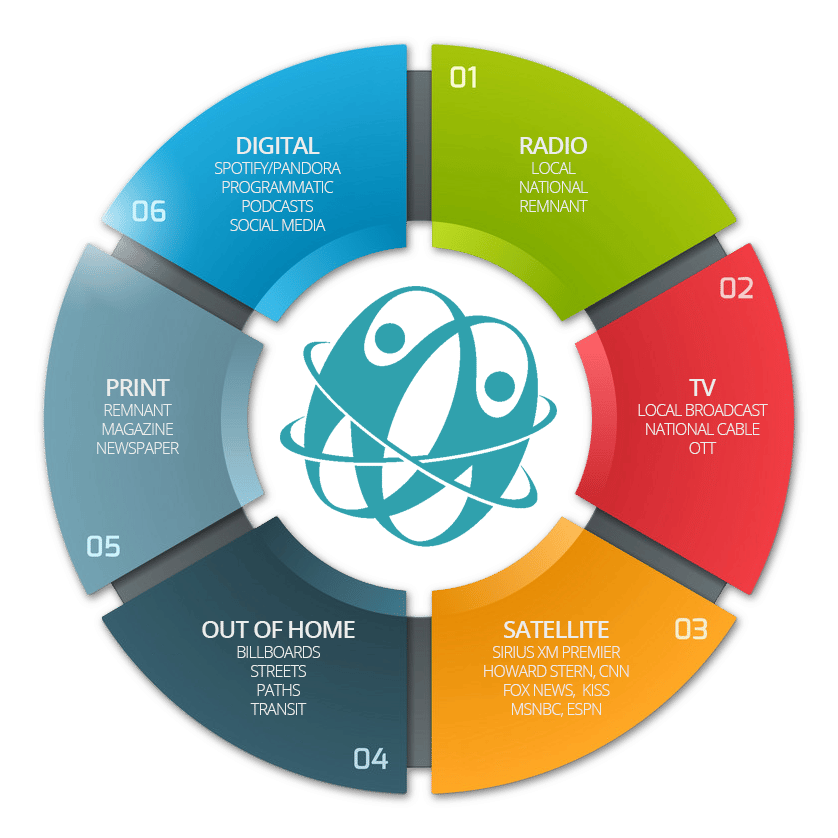 MEDIA PARTNERS HAS EVOLVED
MPW was founded over 25 years ago by a team of radio veterans. Although radio was our foundation and continues to be our core, we have evolved and outlasted many of our competitors by becoming a one stop source for all media.
Multi-channel and integrative campaigns are key in today's world. Media Partners is here to help you navigate through the digital world and help you thrive. Savvy advertisers now complement their radio and TV Direct Response campaigns with Digital, Social, Out of Home and Print marketing.
The MPW team includes expertise in Direct Response campaign management, media strategy, planning, negotiation, competitive research and buying. Our "results dashboard" ADTRACTION, delivers the analytics to track each of your campaigns online and offline.